The Wildland/urban Interface & Wildfire Prevention
Wildland/urban Interface Forest Fuel Hazard Management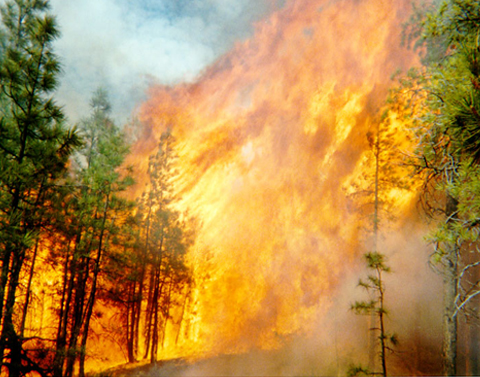 The wildland/urban interface is an area where residential, industrial or agricultural structures exist within proximity to combustible wildland vegetation. An interface fire has the potential to burn both structures and wildland vegetation at the same time. Interface fire fuel management has become an area of significant importance. Wildland/urban Interface Management is a term used to describe an area where various structures (homes, acreages, communities, etc) meet or are intermingled with forest and other vegetative fuel types.
Simply put, Wildland/urban Interface is where the urban lifestyle meets the forested area. In forest fire terms, any vegetative type (forest or grassland) is a potential fuel source that can pose a serious risk to human life and property in this "interface zone". By choosing to extend our lifestyle and communities further into forested areas we become more exposed to the danger of wildfire. Whether we dwell, play or conduct our business in the Wildland/Urban Interface, individual owners and communities can take effective measures that reduce exposure to devastating losses, protecting assets, lives and the environment.
Forest Fuel management, also known as Wildfire Hazard Reduction, involves the modification of the forest structure to reduce forest fuel accumulations. The goal of forest fuel management is to reduce fire intensities, reduce potential for crown fires, improve wildfire suppression success, improve firefighter safety and improve forest resilience to wildfires. The focus of fuel management is to modify forest fuels to help protect structures and lives in the interface fire zones.
As a result of historical practices, our forests have denser canopies, increased ladder fuels in the form of low hanging limbs and mosses, and higher surface fuel loadings. These conditions adjacent to homes, communities, etc. may result in the potential for increased hazard to homes, communities and infrastructure in Wildland/urban areas.
Some of the services we offer:
Wildfire Prevention Strategies
Community Wildfire Protection Plans
Project Development / Proposals
Project Management / Supervision
Fully equipped experienced mitigation crews
Complete Resource Mapping / GPS Services
Ecosystem Restoration Project Development /Implementation
Property and Structure Assessment – Outlining the measures you need to take in order to minimize the threat of wildfire to your property.
Fuel Management – Managing the vegetation in and around your property to lessen the risk of wildfire. This can be accomplished by thinning and pruning, removing volatile trees such as spruce and planting fire-resistant species such as aspen (species conversation), the construction of fuel breaks, or general cleanup in and around your property.
We offer immediate modification and/or removal of potential fuel hazards, such as:
Tree assessment, falling and disposal.
Shrub and undergrowth pruning and thinning.
Debris accumulation removal.
Various other hazard recognition and management strategies.