What is forest fuel management?
A thorough Wildland/urban interface protection plan encompasses 2 main objectives:
1.  Forest fuel management (known as Wildfire Hazard Reduction) involving the modification of the forest structure to reduce forest fuel accumulations. The main goal of forest fuel management include:
Reduction of fire intensities
Reduction of potential for crown fires
Improvement of wildfire suppression success
Improvement of firefighter safety
Improvement of forest resilience to wildfires.
The goal of forest fuel management is to make modifications to forest fuels in order to help protect structures and lives in the interface fire zones.
2.  A wildfire suppression strategy utilizing:
Suppression equipment including rooftop and perimeter sprinklers
Water source: whether access to, or as in a stored supply
Fire department accessibility
The goal of forest fire suppression equipment at the property owner level is to protect the property values from falling victim to a fast moving forest fire and the contributing fire brands that could potentially cause ignition.
How does Fire Caddy / Fire Suppression assist?
Fire Caddy delivers innovative, self-contained fire suppression equipment for effective property protection. Wildlands Eco-Forestry Inc is an authorized distributor for the Fire Caddy suppression systems, providing solutions to the demands of living within the Wildland Urban Interface.
Three primary Fire Caddy tools amongst others are:
1. ZoneOne Sprinkler System
ZoneONE Sprinklers have been designed specifically for structural & perimeter protection from urban interface wildland fires and are a natural accessory for the FireCaddy.
A homes Roof is usually the most critical first line of defence from firebrands causing ignition.  Any sprinkler system is better than the alternative.
2. Twelve Volt System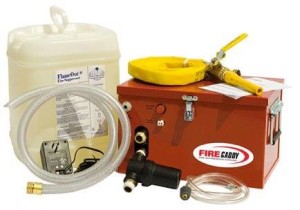 PERFORMANCE
Delivers at a regulated 6.0 gpm @ 110 psi (Maximums – 175 psi and 8.2 gpm)
Shoots foam stream 40 – 45 feet
Works on all Class A and B fires anywhere that emergency first response is required.
USEAGE
Emergency response vehicles
Oil & Gas, Mining, Construction industries
Forestry apparatus
Service vehicles, job sites, service centres
3. Trailer Unit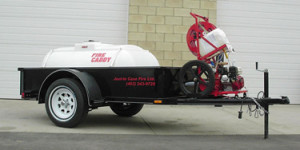 FEATURES 
Dependable, powerful, easy-start, 5.5 hp Honda® gas engine
Davey Firefighter® single stage pump (dual stage available)
16 inch solid rubber tires for easy wheeling
50 feet of high pressure rubber discharge hose
Air-aspirating nozzle with shut-off
1" secondary discharge which can be used simultaneously with primary discharge and can be extended up to 400ft with optional layflat hose
Rugged all-metal powder coated frame
5 US gallons of FlameOut®
Contact us to learn more about Fire Caddy solutions for fire suppression in the Wildland/urban Interface.
Reference: Fire Caddy website.
WORTH READING:  http://www.ubcm.ca/assets/Services~and~Awards/Documents/sprinkler-protection-program-report.pdf